Slide mount options explained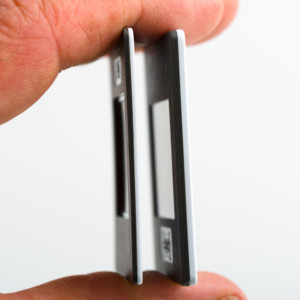 The types of slide mounts are their application seems to cause a bit of confusion, particularly to those who aren't photographers or who are too young to know about the world of 'proper' photography using film! OK, with tongue removed from cheek, here are types and applications:
Quick summary
Unmounted – cheapest option but you will need to have your own slide mounts to use them in a slide projector.
Plastic mounted – the most common option as the slides are ready to use straight away in slide projectors or on light boxes.
Glass mounted – Actually no longer available but was most expensive option and only for those with a particular niche use. If you didn't know why you need them they you didn't need them!
Detailed information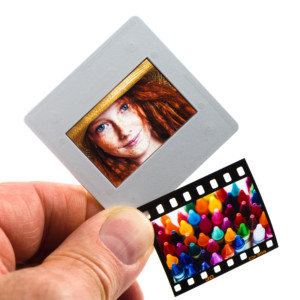 Unmounted slides are the cheapest option and will require work and further expense on your part if the are to be used in slide projectors. You will be supplied with the processed 35mm film transparencies. Film comes in 36 exposure rolls but your slides will be supplied in strips of four frames for ease of posting and to keep the film flat. They are protected in plastic sleeving.
If they are to be used in a slide projector, for example, then you will need a supply of empty slide mounts of your choice. Individual frames can be cut with a sharp pair of scissors, the key being to keep fingers well away from the image area as finger prints on the film surface will be impossible to remove. They cut frames are then place into the empty mounts and the mount snapped together. All slide mounts are plastic these days – if you find some old cardboard types then most likely the adhesive will have dried out. There are quite a few types of plastic mounts out there with varying means of assembly; some use adhesive dots to hold the film in place, others metal retaining slots, others just require the film dropping into a rebate. Some slide mounts come in two pieces, others are hinged. The cheapest slide mounts will crop into your image a little – this is by design to accommodate irregular image areas and frame cutting. For more accurate mounting obtain GEPE type 7011 mounts that have a more accurate positioning method.
These are the standard way of presenting slides – they can be dropped straight into any 35mm projector slide magazines for instant use. If you are at all unsure of whether to order unmounted, plastic mounted or glass mounted slides to go for then choose this option.
The mounts are of industry-standard size of 50mm x 50mm (2 inches x 2 inches). We use mounts of 1.8mm thickness.
The 1.8mm type fit all Standard and DIN slide trays & 40/80/100/120/140 round trays, Kodak Carousel, LKM, CS and Paximat trays. We use Gepe and AP mounts which have a two-colour construction. They are made of high grade plastic with a temperature resistance of up to 100°C and are used for their versatility and where the slide trays use the CS or LKM system.
These were specialist mounts that can be dropped straight into any 35mm projector slide magazines for instant use but no longer manufactured, so the following is for reference only:
The mounts were of industry-standard size and fitted Kodak Carousel type slide projectors with 80 slide magazines. The overall size is 50mm x 50mm and the thickness is 3mm. They DO NOT fit DIN slide trays or many Leitz, LKM or Paximat trays. They are NOT suitable for SUCK UK type decorative light boxes. We used GEPE type 2004 mounts which had thin stainless steel metal inserts that kept the film in place while allowing the film to move as it heats up and expands, which reduced film bowing out of shape and losing projector focus while at the same time provides absolutely sharp projection edges. They were made of high grade plastic with a temperature resistance of up to 100°C and had solid construction with two inter-locking halves ensures perfect stability of the mount.
While they were similar to the plastic slide mounts we use they had the addition of two very thin sheets of glass either side of the film. This allows some protection to dust and fingerprints from careless handling and also further limits the bowing of film when under the intense heat of a projector lamp. The 0.8mm thickness glass is finely etched to prevent the strange optical phenomenon of multicoloured rings spreading across the image when the film touches the glass, known as Newton's Rings. This feature is therefore called Anti-Newton Ring or just "AN" for short.
The mount is in two halves, one white and one dark grey. They are always put into the projector trays the same way – the dark grey size facing the screen and the white side facing the projector lamp. This is not only a convention that helps orienting slides the correct way round but it also helps reflect the heat of the lamp away from the mount.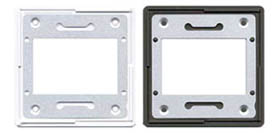 Benefits:
Protect film surface from physical damage
For projectors without autofocus as the image wont drift out of focus if the slide is in the gate a long time and heats up
Drawbacks:
Expensive to buy and to post
Heavy
Very fragile
May shorten slide life by creating a 'greenhouse'
Six air surfaces to attract dust, four of which can't cleaned unless mount disassembled
Condensation may form when bringing slides in from the cold outdoors