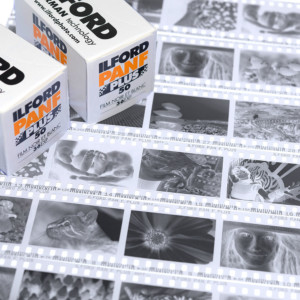 New, from April 2017
April 2017 sees us switch to Ilford PAN F Plus processed in Ilford Perceptol developer. While our previous combo of Kodak TMAX 100 processed in TMAX developer gave beautiful results we felt that the slower speed of PAN F processed in a technical developer gave the finest grain possible. And of course, ILFORD film is made here in the UK and it makes sense to support our indigenous (and excellent) photographic manufacturers!
The finest grain means that the film doesn't add texture to your digital photographs – after all, the name of the game is to bring control back via the digital image preparation. Of course, you can make your digital images as grainy as you like via post-processing on your computer. Crucially, with digital to film transfer, the darkroom manipulation you once would have done in the darkroom is now done on your computer. When you print from our negatives, the images should just fall onto the paper and require no manipulation – do it right and you can whizz through a roll of our film straight exposing every frame onto paper with the same exposure, grading and print processing time.
And more exciting yet, we have dropped the price from £30 for the first 10 negatives down to £25, which will be welcome news to our student customers no doubt. And further, we have introduced price breaks for 15 and 30 negatives, which drop the price further by up to 10%.
See more: 35mm black and white negatives from digital photos